We asked: Why are so many sweet snacks loaded with sugar? To solve this problem, we reimagined the classic sandwich cookie to be a better snack: with just 1/5th the sugar of the leading sandwich cookie, and 100 calories!
Low Sugar

Too much sugar isn't good for us! It can lead to sugar spikes and, in the long run, overconsumption can contribute to metabolic disease.

Prebiotic

Prebiotic fiber feeds your gut's good bacteria, which helps with digestion and general good health.

Low Glycemic

Snacks that are low glycemic allow you to maintain a consistent blood glucose level as part of a healthy & balanced diet.

High Fiber

Most Americans don't eat enough fiber. Our snacks are rich in fiber and help you get to your daily fiber target.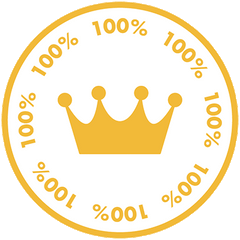 THE ROYAL GUARANTEE
100% satisfaction guaranteed